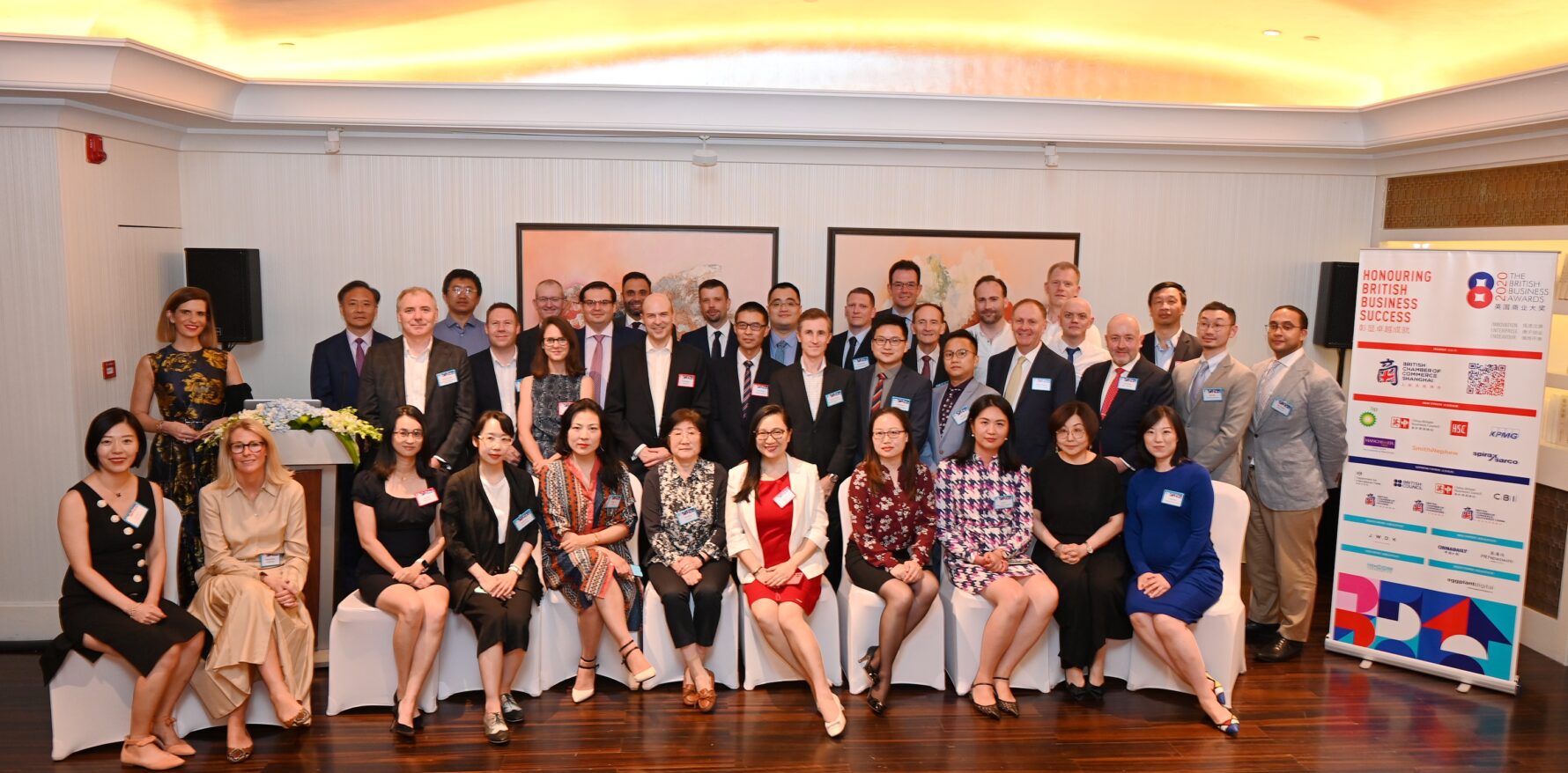 Shanghai, 3 September 2020 – Finalists of the British Business Awards 2020 was announced at Jing An Shangri-La, West Shanghai today.  From an extensive list of exceptional candidates, 41 exemplary businesses and individuals were shortlisted and applauded for their excellent work demonstrating the spirit of innovation, enterprise and endeavour.
Ray Chisnall, Chairman of the British Business Awards 2020, said,
"The Awards are a joint effort by the British business community in China.  We have seen in total 146 applications and many spectacular entries from a vast range of industries this year. It is a great testimony to the broad range of sectors in which British business is successfully operating in China and exporting to China, which proofs that British business in China continues to go from strength to strength.
We are also delighted to see a doubled number of applications for the Chinese Investor in the UK category. All great companies strive to grow and succeed and contribute to strengthening UK-China business relations."
Chris Wood, British Consul-General in Shanghai, said,
"It's a great pleasure to be here and to see a packed room here this evening, which I think is an excellent reflection of the importance of the British Business Awards.
Chinese economy is recovering well, and for businesses here in China, it is also going extremely well. After a challenging few months, it is a great time to celebrate the best of British and Chinese companies, of British and Chinese trade. I would like to congratulate all the nominees and I very much look forward to celebrating and hearing about the winners in October."
The British Business Awards 2020 Finalists (company name / last name by alphabetical order)
Innovation Award – Sponsored by bp
AstraZeneca
Crowcon Detection Instruments Limited
Jaguar Land Rover
Modern Water
Morgan Advanced Materials
Sustainability Award – Sponsored by Houghton Street Consulting
bp
Halma
Modern Water
SpiraxSarco Engineering (China) Ltd.
Unilever China
Education Institutional Partnership of the Year Award
King's College London
Liverpool John Moores University
Queen Mary University of London
Queen's University Belfast
University of Liverpool
Entrepreneur of the Year Award – Sponsored by The British Chamber of Commerce Shanghai
Penny Burgess – WE Red Bridge
Rupert Hoogewerf – Hurun Report
Theodore O'Mahony – KANVID
Malcolm Staff – Halifax Fan Group
William Vanbergen – BE Education
Chinese Investor in the UK Award
China CITIC Bank Corporation Limited
China Reinsurance (Group) Corporation
Trip.com Group
TusPark Holdings (UK) Limited
British Exporter of the Year Award – Sponsored by CBBC
Avenue51
Peak Scientific Instruments Limited
Renishaw (Shanghai) Trading Co., Ltd
Samarkand Global
TPP
Leadership Award – Sponsored by The University of Manchester China Centre
Ornella Barra – Chief Operating Officer, Walgreens Boots Alliance
Penny Burgess – CEO, WE Red Bridge
Rui Ding – Managing Director, Oxford University Press (Shanghai) Ltd.
Thomas Murphy – Chief Financial and Planning Officer, University of Nottingham Ningbo China
Barry Piper – General Manager Asia, Cooper Turner Beck
Best Employer Award – Sponsored by Smith+Nephew
Dulwich College Shanghai Puxi
Smiths Group
SpiraxSarco Engineering (China) Ltd.
The Happy Monk
The Hutong
Best Services Award – Sponsored by KPMG China
Ince
Pagoda Projects Ltd.
Smiths Group
The Hutong
Walgreens Boots Alliance
Wood
*Two companies tied for fifth place.
British Company of the Year Award – Sponsored by SpiraxSarco
C2W Group
Halma
Smiths Group
Walgreens Boots Alliance
Wood
The winners of this year's awards will be announced at a Gala Awards Dinner in Shanghai on 29 October.  Early-bird booking will open on 4 September. For more information, please visit www.britishbusinessawards.org.